Conquer Mt. Pulag series will come your way shortly.
Pragmatically speaking, we can never conquer Pulag or nature in general. Philosophically, it can apply to a number of things. I described it like a handicapped person attempting to overcome his fear. And maybe the more we take part in the laps of mother nature, the more we learn about us from her…
***
It has been my childhood dream to chase the clouds of Mount Pulag. I chanced upon reading some blogs about the famous mountain in the province of Northern Luzon. I did not know where it was but I just thought it was somewhere in Cordillera region. I was aiming to climb one of the highest mountains in the Philippines since then.
I have plans of climbing Mount Pulag in 2013 but in some cases, opportunities like free invitations knock only once so I would not have to compare prices and find cheap hotels.  All my plans for climbing Pulag occurred sooner than expected. Why would I hesitate to join them? This rare opportunity happens once in a lifetime so I would not mind climbing the mountains of Pulag besides being able to chase the cloud on top is just a remarkable experience.
Never did I think twice to say yes for the invitation. I immediately responded yes to their offer. For participants of Conquer Pulag, the damage normally costs approximately Php4000 to Php5000 and that depends on the group tour organizers you will take, which is considerably lower than those who prefer to travel alone or who prefer the DIY trips. But needless to say, it's a wonderful experience to be able to join Byaheng Victory tours.
***
It was nothing but a massive bank of cloud that has enveloped the disappearing  sunlight and all of us were standing at the top of the cloud. I can't explain however the feeling of being able to see the world below. It was so surreal that I can see the amazing and wonderful place full of rolling mountains.
I was silently moaning until we reached the camp site. It was roughly thirty minutes passed the hour of three in the afternoon when we arrived at the camp site. I was not taking note of the time, but one thing is for sure I really felt so exhausted. I just managed to hide what I really felt inside that day.  It seemed as if my whole body was singing in the music of pain. Believe me, I was actually cursing myself and starting to seriously ask myself as to why in the hell I embarked on this ridiculous trip. I was hoping to cure some of the things that I had inflicted on myself.
I am not a mountain person and so I thought Pulag is one hell of a climb but definitely worth it. I must say it was such a difficult climb for noob mountainer like me.  So to keep my spirits high I did not do anything but to sing different melodies of life which I believe I sung almost all the songs written in the clouds. All the time, we met local hikers, spotters and other outdoor enthusiasts who greeted us with their backpacks and their bamboo or steel walking sticks.
Now I believe that climbing the mountain of Pulag is a lot like you are making love. You have to take it slowly. Never compete otherwise you will definitely hurt yourself. Meditate, take a deep breath and drink plenty of spring water **wink…
Reaching the camp site is an accomplishment for me. I suddenly felt energized and I could not wait until dawn. Waking up at three in the morning will give us plenty of time to rest. I was struggling with the cold and freezing temperature despite of the clothes I was wearing. A shirt, sweat shirt, two jackets with bonnets, 3 thick socks and gloves. We spent the rest of the night with other mountaineers. Dinner and socials happened at around seven in the evening. The time was running too slow and the sound of the innocent night was ringing and disturbing my ears. I would strongly recommend to take extra blast of carbohydrates to energize yourself. Keep your faith always.
The final ascent to the summit is totally pitch black and it was not fun as you may think but somehow I find it enjoyable thus making the ascent until the final stretches of the summit of Pulag in the dark is one of those experiences one can really enjoy.
Above photo: Sidetrip to Ambuklao dam, a dam that supports a hydroelectric plant in the mountains of Bokod, Benguet province with Mount Pulag participants.
Below photo:  group photo at the summit of Mount Pulag with Byaheng Victory participants to Mount Pulag. Taken using my Ipod Touch.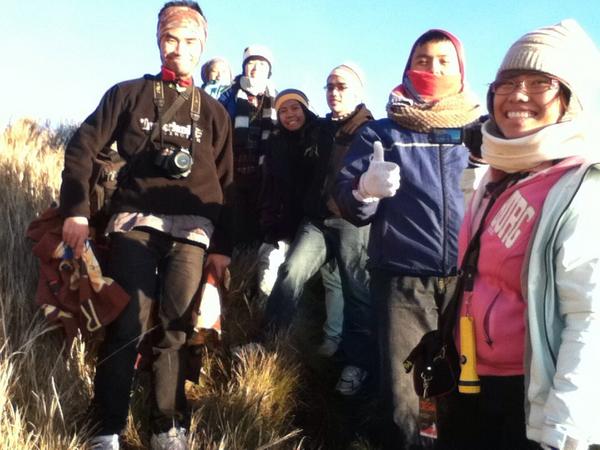 Full disclosure: This a sponsored trip by Byaheng Victory.
Thanks to my newly found friends I met during this memorable adventure. A big thanks to Travel Factor team and its organizing committee for inviting me. "Byaheng Victory" is a series of group tours initiated by Victory Liner, the country's premier bus transportation company and in cooperation with Travel Factor, one of the biggest adventure tour organizers in the Philippines, it promotes a taste of adventure and extra ordinary  destinations reached by Victory Liner. Byaheng Victory will take you to some of the most beautiful trips in the Northern Luzon.
Be part of Travel Factor. Like them on Facebook and Follow updates on Twitter.