Words have ways of motivating, inspiring and teaching our minds to persevere in the pursuit of adventure. Traveling can get hard, lonely and sometimes boring, especially when bad weather strikes, funds plummet or transfer planes, trains and automobiles run late. You need something to remind you of what you have already achieved and the good times that still lie ahead, so here is a list of books that many a wanderlust believes you should pack in your rucksack.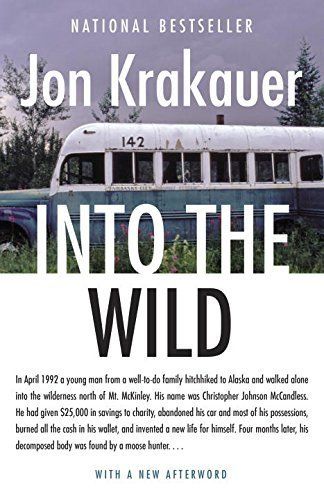 Motivational Memoirs
Real life memoirs are testament to the old saying 'you can do anything you want to in life'. These books discuss the struggles and hardships that you'll no doubt experience — take comfort in that. Okay, so Christopher McCandless didn't make it back from the Alaskan wilderness in Into The Wild, but what a story author Jon Krakauer had to tell about him. McCandless was a highly educated man who gave up his college fund, adopted the name 'Alexandar Supertramp' and set off to Alaska with as few material possessions as possible. He took extreme risks which eventually led to his downfall but are admirable nonetheless.
Torre DeRoche's Love with a Chance of Drowning is another must-read memoir. She gives up a cosmopolitan city lifestyle and overcomes a fear of water (no easy feat) to voyage across the Pacific Ocean with the man she loves. Set against a beautiful backdrop of destinations, DeRoche proves that being brave pays off in life.
The All American Dream
If you're traveling around North America, Hunter S. Thompson  and Jack Kerouac are two authors who have been there, done that and got the crazy tales to tell about finding the All American Dream. Fear and Loathing in Las Vegas documents sports journalist Thompson and his attorney as they travel down the desert highway to cover a race event in Las Vegas. Along the way they will endure surreal encounters with the good American public. In Kerouac's On the Road we follow Sal Paradise and his friends during the post war Beat movement as they travel around America with a backdrop of jazz, drink and poetry. After reading these modern masterpieces, you'll want to hire out an old Cadillac to drive around.
Childhood Adventures
If you caught the traveling bug from a young age you'll have no doubt been influenced by a great story. Pack your favorite childhood stories,  available from Tesco, to ignite that first thirst you had for adventure. Dig out your Roald Dahl book set and find James and the Giant Peach, the story of James Trotter who makes the magical journey to New York on a giant. Enid Blyton's Famous Five is another nostalgic set of novels that follow the antics of inquisitive, bold children who are partial to seeking out adventure — and sometimes danger! — on holidays. All fuelled with a picnic of ham sandwiches and ginger beer, of course.
Luxurious European Escapes 
If you're heading to Europe to see how the other half lives, pack some Hemingway and Fitzgerald. Both pivotal writers in their time, each showcase the dramas of the 1920s in very unique styles. Tender Is The Night by Fitzgerald follows the lives of film star Rosemary Hoyt and enigmatic couple Dick and Nicole Diver. Set on the Riviera, along with trips to Paris, you'll be sucked into the glamorous yet destructive times of this roaring decade. In Hemingway's The Sun Also Rises you'll follow American and English members of high society as they venture from the bustling cafes of Paris to the manic bullfighting town of Pamplona in Spain. Enjoy it with a Hemingway Daiquiri.
There are so many books out there, fictional and non-fictional, that have the power to keep you going. Pack at least one of them for when you need a little pick-me-up.