It was still dark outside  when my alarm clock buzzed. As I opened my eyes, I saw the light blinking at exactly 4:00 am. After a few moments, I realized with my groggy mind  why I set my alarm clock in the first place. I rolled out of bed and checked out the window and found out it was still dark outside my window. But I know it won't be for long. Then again I quickly dressed up in multiple layers of clothing, a shirt, sweat shirt, thermal socks and I immediately pulled out a pair of gloves and my new beanie cap. I took an early breakfast meal and a cup  full of coffee and cream. Then I checked my what to bring list. Camera, lenses and a tripod. I got so excited and I just could not hide it. It was at 5:00 am when we left the lodge and headed out our driveway.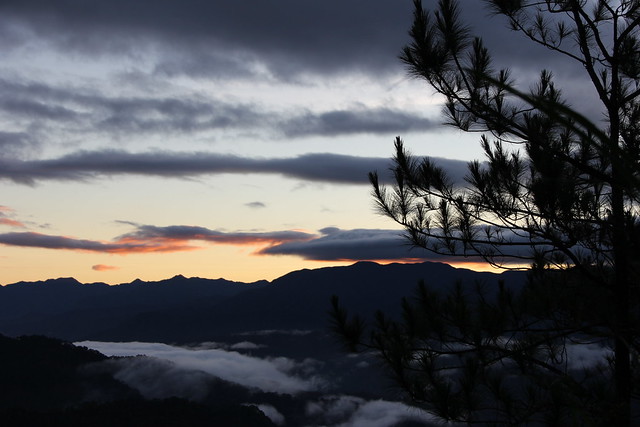 I'm all set.
Waking up as early as four o'clock in the morning in Manila to catch the morning sunrise is not something I do a lot these days but in Sagada, it's always a prerequisite  to catch the sunrise at the Kiltepan viewpoint. Getting there is totally a breath of fresh air. We did not get to see the rising sun at that point but it feels ultimately great to watch the sea of clouds below.
We are heading to the Kiltepan viewpoint which is exactly about 15minute drive away from the main town. The fog is moving around the base of the rolling green mountains. I knew it was going to be a beautiful sunrise.
Catching a sunrise at Kiltepan viewpoint in Sagada is part of our Sagada itinerary, a must see activity while you are there. The colors that keep on bouncing from the  the mountain ranges across the valley are breathtaking. Kiltepan is an amazing place which is truly a very popular sunrise spot.
It really is mind boggling that with a simple scenery completes our day with additional subjects like plants, flowers and other amazing views of the mountain ranges. We waited and waited for the sun to rise but we did not get to see the rising sun but for all the wanderers who waited it was a surreal experience. We shared tales and stories while waiting for the sun to appear and took a lot of photos.
It was around 6:30 a.m., when we had to give up of seeing the sun rise. We went back to our van and headed back to the main town for breakfast. I remember walking to the summit in less than an hour was worth it as everyone will be rewarded with a stunning views of the rice terraces. But sometimes, we don't have any control of the weather. We may not be able to see the sunrise but getting acquainted with mother nature is a wonderful experience above all.
Simple pleasures like watching sun rises are the things that sometimes people are taking for granted. So whatever your plans today, savor the moments and enjoy life!